In the last several years, the obesity epidemic and the increasing incidence of diabetes have gotten significant attention in the news, often with a focus on what we can do to reverse these trends. Now, there is a new study out that shows that a cause of these health issues may be in the nature of our working schedules. The study, which was just published in PLoS Medicine, suggests that shift work is connected to a higher incidence of obesity and diabetes.
According to the study, around 15%-20% of workers in the United States and Europe are shift workers, a number that is expected to increase as more and more industries move to 24-hour operations. For those workers, the study argues that obesity and diabetes should be understood as occupational hazards for which prevention measures are necessary. The risk is particularly high for night shift workers whose metabolism and diet are particularly affected by interruptions in the natural sleep pattern.
Classifying diabetes and obesity as "occupational hazards" forces us to examine what employers and employees can do to minimize the risks. Addressing the diet of shift workers is an obvious target. The easy access to junk food and the irregularity of meals due to scheduling mean that employees often lack the ability to maintain a regular and healthy diet. The study suggests that workplaces might be able to lead the way in changing this situation, by offering better on-sight food, making it easier for employees to maintain a healthy diet, and creating incentives to that they actually do so.
For now the study serves as a warning to both employers and employees. The health hazards of shift work seem to be well-documented now. The challenge going forward is to figure out how to use this knowledge to prevent those hazards from becoming reality. If employers don't do enough to combat these issues, they may risk becoming a defendant in a lawsuit down the road. And if employees don't take steps to ensure their own workplace safety, they may well end up "injured." In the end, the hazard of diabetes or obesity needs to be given as much attention as other, more tangible workplace hazards.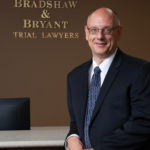 A founding partner with Bradshaw & Bryant, Mike Bryant has always fought to find justice for his clients—knowing that legal troubles, both personal injury and criminal, can be devastating for a family. Voted a Top 40 Personal Injury "Super Lawyer"  multiple years, Mr. Bryant has also been voted one of the Top 100 Minnesota  "Super Lawyers" four times.