When an insurance adjuster makes an offer to you when you don't have a lawyer, ask yourself how they came up with that number.
You think they are paying more than they normally would?
You think they are taking into consideration the costs and fee you would have had with a lawyer?
You think this is the first case they have ever adjusted?
The odds are that the answer to those questions are No, Yes, and No.  So, by definition they are paying less than they would have if you were represented.  Now ask yourself three more questions:
Do you think it makes a difference if you are properly represented?
Would it make a difference if your case is properly prepared to maximize the value?
Is this the first case you have ever settled?
Odds are, this time, that the answers to each of those questions is yes.  So, doesn't it make sense to talk to an experienced trial lawyer about the value of your case and what needs to be done?   Sure, you could end up hiring them and actually paying them, but if the case is done right, it will be worth it.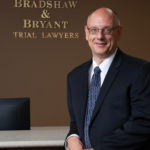 A founding partner with Bradshaw & Bryant, Mike Bryant has always fought to find justice for his clients—knowing that legal troubles, both personal injury and criminal, can be devastating for a family. Voted a Top 40 Personal Injury "Super Lawyer"  multiple years, Mr. Bryant has also been voted one of the Top 100 Minnesota  "Super Lawyers" four times.