This the third installment in a series on Why it's Smarter to Talk to a Lawyer. Previous installments were the overview, and the second installment addressed that it's usually free to talk to a personal injury lawyer. This third installment addresses why you shouldn't wait to talk to a lawyer.
Many people think they should wait a few months after a crash before they call a lawyer. Waiting can be a big mistake.
Everyone should call a lawyer after a wreck. I think everyone with an injury or a death from an accident needs to at least talk to a lawyer to learn their rights. It costs nothing to talk to most personal injury lawyers. Hiring a lawyer will help protect your rights.
The earlier, the better. I think it's smartest to call a lawyer as early as possible. (Well, almost. Go the the hospital or the doctor first and get the proper care.) Then call a lawyer who handles personal injury claims.
Why not Wait? Waiting too long can result in important evidence being lost or destroyed. When we are hired, one of our main jobs is to collect and preserve evidence.
Insurance Investigators Don't Wait. The insurance company investigators are out there right from the start. Are they talking to witnesses? Are they talking to the police who investigated your claim? Who do you think the insurance investigators favor? Maybe they seem friendly, but they are NOT on your side.
Don't Sign. Also, you can lose valuable rights and benefits if you accept certain payments or sign the wrong paper, no matter what the insurer tells you. As my partner Mike Bryant always says, "Don't Sign Anything Until you Talk to a Lawyer"
Same Price. Most importantly, it's the same attorney fee no matter if you hire us the day after the crash or a year later. It's like getting a year of free legal advice compared to someone who waits.
That's why it's Smarter to Talk to a Lawyer as soon as possible.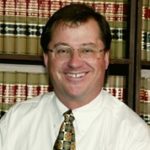 As a partner with Bradshaw & Bryant, Joe Crumley has over 20 years experience with the firm—helping injured people and their families to secure just and fair compensation. Excelling in personal injury litigation, Mr. Crumley has secured numerous record-setting verdicts and settlements and won accolades such as MTLA's "Trial Lawyer of the Year" and "Excellence" Awards.