If you are injured in a motor-vehicle collision, your first call should be to the police, and your second should be to a car accident attorney. You may be tempted to call the insurance company to begin the claims process, but any recorded statement you provide to the insurance adjuster can be used against you.
Determining liability and identifying all potential options for recovering compensation can be complicated after a serious collision. Minnesota operates under a "no-fault" car insurance system, so your first source of compensation will most likely be your own insurance provider. But if your medical bills, lost income, and other damages exceed your coverage limits, or if you intend to pursue compensation for non-economic damages, you will have to file a third-party claim.
An experienced attorney can help you understand your options for recovering compensation and prevent you from making mistakes early in the proceedings that would jeopardize your case. For example, you might be offered a settlement before you know the full extent of your injuries, but accepting this settlement could prove costly if your medical expenses and lost income turn out to be more expensive than you had anticipated. Your attorney can handle correspondence with the insurance company and calculate your damages to make sure you aren't coerced into accepting an unfair settlement.
Important Evidence May Become Unavailable If You Put off Your Consultation 
It is not uncommon for evidence of negligence to be altered or destroyed soon after an accident. A prime example of this is black box data.
Most commercial vehicles have black boxes, which record information about a driver's performance including hours on the road, top speed, and distance traveled. This evidence might be used to prove that the truck driver broke a law before the crash. Unfortunately, truckers and their employers are aware of this fact, so they might destroy the evidence so it cannot be used against them. Truckers may also alter their Hours of Service logbook so it looks like they drove for fewer hours—if they violated Hours of Service Regulations.
Surveillance camera footage is another example of potentially time-sensitive evidence. If the incident happened near a gas station or store that has surveillance cameras in the parking lot, there is no guarantee that such recordings will still be available 90, 60, or even 30 days after the fact.
Deadlines for Filing Personal Injury Lawsuits in Minnesota 
In the state of Minnesota, accident victims typically have six years to file a personal injury lawsuit, but there are exceptions to this rule. For instance, if you want to sue a government entity, you only have 180 days from the date of the injury to give notice. Dram shop (drinking) claims and  out of state claims can change the time line.
Discuss Your Case with a Minnesota Car Accident Attorney 
The Minneapolis personal injury attorneys at Bradshaw & Bryant can evaluate your claim for free and help you understand the laws that govern your case. We provide compassionate and tenacious legal representation to injured parties throughout Golden Valley, Waite Park, and all of Minnesota. Call 800-770-7008 to schedule a free case evaluation with a car accident attorney.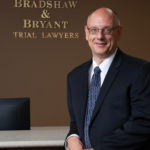 A founding partner with Bradshaw & Bryant, Mike Bryant has always fought to find justice for his clients—knowing that legal troubles, both personal injury and criminal, can be devastating for a family. Voted a Top 40 Personal Injury "Super Lawyer"  multiple years, Mr. Bryant has also been voted one of the Top 100 Minnesota  "Super Lawyers" four times.