Here at the Injury Board, discussing safety is our top priority. Unfortunately, many safety issues do not arise until after bad experiences occur. Dressing for winter, however, is one of the situations in which thinking ahead can prevent unfortunate events from happening later. The primary goals of winter dressing are to stay warm, stay dry, and stay protected from the wind.
The very best advice is to look at layering. Layers provide warmth and create a shell that will protect you from the outside elements. Thankfully, with the invention of breathable synthetic and polyester fiber material, we now have the ability to look at creating lighter garments that will wick moisture away from your skin and add to your inner warm layer.
In choosing the proper layering, experts suggest a base layer, insulation layer and protective layer. The base layer should consist of light, moisture wicking materials such as thinsulate, silk and thermax kept close to your body. Do not use cotton material for this purpose. The insulation layer should be made up of a thicker substance such as wool or fleece. Finally, the protective layer, completes the layers by providing tightly woven fabric that is somewhat waterproof and windproof to create a warming pocket around your body, keeping you snug in the harsh, inclement weather. Early in the year, a wind shirt may serve as a protective layer whereas in the middle of the brutal winter season, a parka may be more appropriate attire.
Take great care in protecting your extremities. Particularly, utilize head covering gear, as 60% of your body heat can escape that way. Mittens or gloves, scarves, warm socks, and the right shoes will finish off good winter protection. Accessories, such as sunglasses may help prevent eye damage from UV sun rays.
Here are some suggestions on what not to do:
Clothes that are too tight can be restrictive and prevent the wicking from working properly.

Blue jeans can soak up water and lead to bigger problems.

Too many socks, in the end, provide less protection and hurt with the need for circulation.

Winter boots that are too big provide no protection and could let in water or snow.
Sitting down and deciding what you are going to do that week and where you are going to be that week, that little thinking ahead, will make all the difference in avoiding a winter disaster. Preparing for a vehicle breakdown can make the difference in saving a life. If it wasn't for these kinds of tips, Minnesota could shut down for a few months. Dressing properly and taking precautions goes a long way towards making winter a sometimes fun, and at least bearable, time.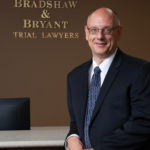 A founding partner with Bradshaw & Bryant, Mike Bryant has always fought to find justice for his clients—knowing that legal troubles, both personal injury and criminal, can be devastating for a family. Voted a Top 40 Personal Injury "Super Lawyer"  multiple years, Mr. Bryant has also been voted one of the Top 100 Minnesota  "Super Lawyers" four times.