Lenovo and Dell technical support people have to stop saying "re-image your hard drive" or "wipe your drive and restore from your backup" as their first option. Whether they're in India, Mexico or Austin, Texas, wiping the hard drive should not be the first option.
I have been working with computers for most of my life. I wrote my first program in 1974, about the same time Bill Gates did. Personally, I've had about five or six laptops, and three or four desktop computers before that. I've had my share of machines. On top of that, I've been the main technical person at my firm for the past eleven years.
In the old, old days, the only technical assistance was the nerd sitting next to you. In the 1990s, when personal computers really took off, technical support became crucial for the survival of the companies selling computers. Personal computers were complex and difficult to operate for non-nerds. Besides, there were so many companies making IBM-compatible computers, that the competition was fierce. Dell destroyed its competition during this time, in part because of excellent free technical support. However, as the competition disappeared, so did the free technical support and paid plans became the norm. Even then, there was still quality technical support available. I had numerous successful technical support interactions during those years.
However, starting in about 1999, my experience with Dell laptops headed downhill. I bought several machines for our firm over the following five years, and although the desktop machines performed admirably, the laptops were very troublesome. I spent hours and hours on the phone with technical support, and noticed the quality of advice gradually decline. This corresponded with published reports of the same support deterioration, as Dell and other companies fought skyrocketing costs.
I noticed that these technicians seemed more and more as though they were simply reading from a flow chart rather than actually analyzing my problems. This was confirmed a few years later when they began directing me to the troubleshooting flowcharts which had been placed online!
More and more, the go-to response at Dell became "wipe your hard drive." I was usually able to talk around that suggestion, but occasionally had to restore from the backup files. This usually meant that my staff or I lost several hours to a couple days worth of work, assuming the backup was working properly. But I always made sure that "Wipe and restore" was the last option used, because lost work is, well, irreplaceable.
The last straw was in 2009, when I had several laptop crashes with my own machine and those of my staff. And the Dell technicians kept telling me to wipe the hard drives as the first option! Frustrated, each time I was able to find a simpler (and less perilous) fix myself or on the internet.
So I switched to Lenovo, the IBM laptop spinoff. Lenovo ThinkPads still had the reputation of being one of most durable, high quality, and expensive machines. And my ThinkPad has performed admirably for almost five years, with only a few minor service calls.
But I did have a big problem recently. My user profile had disappeared, so I was faced with a blank and unfamiliar desktop. Nothing I was trying would work.
My Lenovo service call was a disaster.First, it's my own fault that apparently my warranty has expired. But it's Lenovo's fault that the tech person told me three times in the 2 minute conversation that I would need to "Re-image the disk."
I had just returned from vacation, which meant a 10 day old backup.
It took me five minutes to find a simple fix (Thanks Microsoft! You receive a "The User Profile Service failed the logon" error …).
But in those same five minues, Lenovo tech support has gone to the same trash bin with Dell.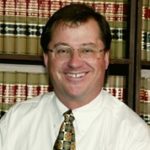 As a partner with Bradshaw & Bryant, Joe Crumley has over 20 years experience with the firm—helping injured people and their families to secure just and fair compensation. Excelling in personal injury litigation, Mr. Crumley has secured numerous record-setting verdicts and settlements and won accolades such as MTLA's "Trial Lawyer of the Year" and "Excellence" Awards.