If you were hurt on the job, you may be entitled to benefits under your employer's workers' compensation insurance. As long as you're classified as an employee—and your employer is properly insured—there's a good chance you have grounds for a claim.
Should you choose to proceed, these are the kinds of benefits you may be able to recover:
1. Wage Loss Benefits
Wage loss benefits include:
• Temporary partial disability;
• Temporary total disability;
• Permanent partial disability;
• Permanent total disability; and
• Dependency benefits.
You cannot pursue wage loss benefits until you have been disabled for three calendar days; however, if you're still unable to work after 10 calendar days, you're entitled to compensation for that waiting period.
2. Medical Benefits
Workers' compensation insurance covers reasonable and necessary health care for work-related injuries and occupational illnesses. This includes the costs associated with emergency care, hospitalizations, diagnostic tests, surgeries, ongoing rehabilitation, and psychological treatment. Traveling to and from appointments is also covered.
Additionally, employers are obligated to repair or replace glasses, dentures, hearing aids, prosthetics, or mobility aids that are damaged in work-related accidents. And in the event of permanent total disability, the reasonable value of nursing services performed by a family member is covered.
3. Vocational Rehabilitation Benefits
Vocational rehabilitation benefits aim to help injured parties reenter the workforce once they've reached maximum medical improvement. Depending on the extent of the injuries, the claimant may be able to resume a position related to his or her former employment or he or she may need training in a new area that has a similar earning capacity.
4. Death Benefits
If an employee dies from an occupational illness or work-related injuries, his or her dependents—including spouse and children—may be able to collect death benefits. In addition to funds for the funeral and burial—up to $15,000—such benefits include regular installment payments.
These payments can be anywhere from 50 to 66 percent of what the deceased was earning at the time of the accident. After any dependent children have reached adulthood, the payments will be reduced, but they will continue for 10 more years. If there were no children to begin with, the spouse will receive payments for 10 years total.
It's worth noting that regardless of the deceased's earnings, eligible beneficiaries—or the estate—are entitled to no less than $60,000 in death benefits under state law.
How Can I Pursue the Maximum Benefits Possible?
If you're going to file a workers' compensation claim, the easiest way to ensure you recover every dollar you deserve is by seeking legal counsel. A resourceful lawyer will gather the evidence needed to help you seek all the benefits to which your family is entitled.
Discuss Your Claim with a Workers' Compensation Attorney in Minneapolis
For help with your workers' compensation claim, turn to Bradshaw & Bryant. Our legal team will assert your rights at every stage of the proceedings. To schedule a free initial consultation with a workers' compensation lawyer in Minneapolis, complete the Contact Form on our website or call (800) 770-7008.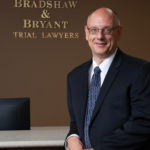 A founding partner with Bradshaw & Bryant, Mike Bryant has always fought to find justice for his clients—knowing that legal troubles, both personal injury and criminal, can be devastating for a family. Voted a Top 40 Personal Injury "Super Lawyer"  multiple years, Mr. Bryant has also been voted one of the Top 100 Minnesota  "Super Lawyers" four times.