Like last time I looked at this topic : It depends. They fight against asbestos suits because of claims of fraud with the trusts. Unfortunately for them, a Government Accountability Office report released last month, commissioned by House Judiciary Chairman Lamar Smith (R-Texas) (most likely at the request of the Chamber itself), found the exact opposite. They regularly send out emails, produce commercials, and mass mail their slanted stories in their continual attack on the civil justice system. They even created bogus polls so that they could tweet that X number of people are against lawsuits.
They then, like most of their members, sue at the drop of a hat:
Recently, the U.S. Chamber of Commerce filed a lawsuit against the National Labor Relations Board (NLRB) challenging the group's election rules.
The U.S. Chamber of Commerce gets involved in lawsuits at a rate of two a week. Try to find the small business or consumer protection in this list:
Justified the actions of Wall Street banks that drove the country's economy into turmoil.
Defended the most conceited and worst behaved CEOs and their most extravagant excesses.
Tried to force workers, instead of employers, to pay for their own safety equipment.
Filed numerous actions opposing any move to combat climate change.
Sought to shield pharmaceutical executives who skirted safety procedures that ultimately killed 11 children.
Opposed measures allowing workers to receive a rest period during a full work day.
Fought on behalf of lead paint manufacturers found to have poisoned thousands of children.
Defended corporations that discriminated on the basis of race and disability.
Spent years defending big tobacco, asbestos companies and chemical companies found to have contaminated water and air.
To learn more about what the U S Chamber and their members do in the courts check out : Do as I say not as I sue.
As an attorney who sues on behalf of those who are injured, I will not question the Chamber's right to seek their own relief. It just seems at odds with their own propaganda. Although, as I have pointed out in the past, the reality is that they really want the court rooms for themselves. They want tort reform protection so that they and their big business members can duck personal responsibility. They want hand outs. They most of all want open courthouses so they can sue everyone else.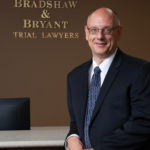 A founding partner with Bradshaw & Bryant, Mike Bryant has always fought to find justice for his clients—knowing that legal troubles, both personal injury and criminal, can be devastating for a family. Voted a Top 40 Personal Injury "Super Lawyer"  multiple years, Mr. Bryant has also been voted one of the Top 100 Minnesota  "Super Lawyers" four times.