In 2021, it's been great to have a forum to talk about making the world safer, but even more important has been the opportunity to learn from Legal Examiner and great lawyers across the country. Here's the list of what the most viewed pieces have been for 2021.
Crosiers Release Their List of 19 Priests Credibly Accused of Sexually Abusing Minors MIKE BRYANT MAR 8, 2014
Understanding the Dangers of Weed Killer Paraquat  MIKE BRYANT MAY 3, 2021
The Diocese of Duluth Release Their List of 17 Priests Accused of Sexually Abusing Minors MIKE BRYANT DEC 31, 2013
Car Crashes with Cows, Horses, and other Animals JOE CRUMLEY JAN 19, 2011
What Damages Are Recoverable After a Wrongful Death in Minnesota? MIKE BRYANT DEC 11, 2018
St. Thomas Shooting – Is anyone to Blame? JOE CRUMLEY  APR 12, 2017
Diocese of Gallup Adds 31 Names to List of Priests Accused of Sexually Abusing Minors MIKE BRYANT DEC 21, 2014
How to Prove a Driver Fell Asleep Behind the Wheel MIKE BRYANT NOV 6, 2019
Who Is to Blame for Sidewalk Slip and Fall Accidents? MIKE BRYANT MAR 31, 2020
What Should I Do If a Food Product I Ate Was Recalled?  MIKE BRYANT DEC 24, 2018
Here is the top ten from our St Cloud blog.
Here is the top ten for the Legal Examiner.
Worth reading also :
Top 10 Civil Justice Stories of 2021 RICHARD SHAPIRO DEC 29, 2021
We hope to build off this year and post even more in 2022.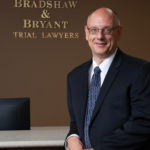 A founding partner with Bradshaw & Bryant, Mike Bryant has always fought to find justice for his clients—knowing that legal troubles, both personal injury and criminal, can be devastating for a family. Voted a Top 40 Personal Injury "Super Lawyer"  multiple years, Mr. Bryant has also been voted one of the Top 100 Minnesota  "Super Lawyers" four times.